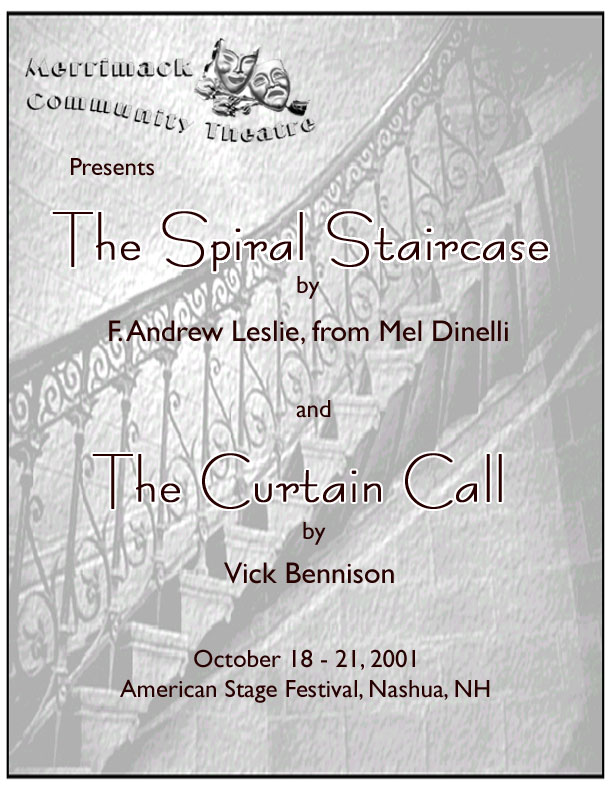 Spiral Staircase
by F. Andrew Leslie, from the screenplay by Mel Dinelli
The Spiral Staircase is a thriller/drama. Mrs. Warren and her stepson Professor Warren live in an old Victorian house in a small town in New England. Mrs. Warren is completely bedridden. A young woman, Helen, is her companion and helper but has been unable to speak since childhood. Someone in the area has already killed three young women who suffer afflictions such as being crippled, facially scarred and being simple minded. There is concern by all associated with the Warren household that Helen may be targeted because of being afflicted with the inability to speak. The murderer has been traced by the local police to the vicinity of the Warren home and the local constable comes by to warn the household to be particularly careful to watch over Helen. A young doctor is trying to convince Helen to see a specialist in Boston who may be able to help her recover her ability to speak. There is a nurse who has been hired to care for Mrs. Warren but Mrs. Warren doesn't like her and refuses to let the nurse attend to her. Professor Warren has an assistant, Stephen, who is somewhat romantically interested in the nurse. Stephen and Professor Warren are at odds with each other. The play is about the relationships between all these people and how they relate to the effort to stop the killer before he kills again.
Curtain Call
by Victor L. Bennison
Curtain Call, written by MCT's own Vick Bennison, is a play about the actors who play the parts in Spiral Staircase. The relationship between these actors as they prepare to present Spiral Staircase leads to some very sinister behavior. One of their number is murdered while they are doing Spiral Staircase and determining who and why and how the murder was done leads to some exciting developments.

CAST of Spiral Staircase:
Joseph McCarthy as Professor Warren
Maria Barry as Mrs. Warren
Susan Rundbaken as Helen
Patrick Kevin as Dr. Parry
Neal Blaiklock as The Constable
Joanne Gamache as Mrs. Oates
Marty Milkovits as Stephen Rice
Melissa Groff as Nurse Barker

CAST of Curtain Call:
Joseph McCarthy as Jeffrey—The actor who plays Professor Warren
Maria Barrie as Barbara—The actor who plays Mrs. Warren
Susan Rundbaken as Liz—The actor who plays Helen
Patrick Kevin as Richard—The actor who plays Dr. Parry
Neal Blaiklock as Michael—The actor who plays The Constable
Joanne Gamache as Katherine—The actor who plays Mrs. Oates
Marty Milkovits as Chris—The actor who plays Stephen Rice
Jim Hawkins as Jim—The actor who plays the stage manager
Melissa Groff as Michelle—The actor who plays Nurse Barker
Gail Angellis as Deborah—The actor who plays the director
Caitlyn Chabot as Sharon—The actor who plays the lights operator
Moreen Trifone as Susan—The actor who plays the props person

The REAL CREW:
Bob Foster -- Director
Jim Hawkins -- Assistant Director
Rita Harden -- Producer
John Sauter -- Sound engineer
Caitlyn Chabot -- Props
Moreen Trifone -- Props
Debby Lutton -- Lights operator
Craig Brennan -- Lighting director
Vick Bennison -- Set construction manager
Neal Blaiklock -- Set construction
Jim Hawkins -- Set construction
Eric Ford -- Weapons coordinator and set construction
Norma French -- Playbill advertizing
Bob Foster -- Set design/Original music composition and performance

October 18, 19, 20, 2001 at 8PM
October 20, 21 at 2PM
Playhouse 101
American Stage Festival
14 Court Street
Nashua NH
Directions to the theater
Tickets may be purchased at the door,
from a cast member or MCT board member
or from one of the following businesses:
Darrell's Music Hall, 75 Main Street, Nashua, NH
DW Pizza, 78 Daniel Webster Hwy, Merrimack, NH